Word: Scripture is used to guide, correct, and encourage us.
Share: We talk about our lives and what's happening in light of God's word.
Prayer: We pray for and with each other for the Lord's strength and help in our lives.
Our adult ministries at Cup Church are rooted in community groups: gatherings of 8-12 people that provide an opportunity to grow in our relationships with God and with each other in a three-step process.
Adult Ministry Gatherings:
Monday afternoon Adult Bible Study (Church Library): 1:00 PM
3rd Tuesday of the Month - Prayer Meeting (in local home): 1:00 PM
Wednesday evening - Young Adult Small Group: 6:30 PM
Thursday morning – Women's Small Group (ZOOM): 9:00 AM
Saturday morning (at Chippewa Eat n' Park) – Men's Group: 7:30-8:45 AM
Sunday morning Adult Sunday School – 9:15-10:00 AM.
.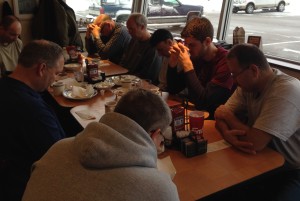 *Some groups take a break during Summer; contact the office for more info.